At City Center Chiropractic, we take great pride in providing the finest care to our patients, to help them achieve the highest quality of life.
Chiropractic Care
Dr. Baastrup provides spinal correction using the Impulse iQ adjusting instrument. Born out of over a decade of research and engineering, this instrument gives an accurate adjustment every time with its special "Auto-Sense" technology.
---
Corrective Exercises
We teach our patients special exercises to help strengthen the body and support their optimum spinal and skeletal function. These exercises can be performed in the comfort of your own home, typically with no special equipment and will be specific for your issues.
---
Lifestyle Advice
We often find it helpful to "coach" our patients on certain activities they should avoid or do differently to avoid aggravating their particular issues. Our goal is to help every patient achieve a fulfilling and happy life full of the activities they enjoy most. We recognize that each patient is a whole person, and helping them reach true health and wellness is a collaborative effort.
---
Spinal & Postural Screenings
Posture and spinal screenings can reveal important health information and unlock the door to improved health and well-being. We provide screenings at area malls, community events, health fairs and places of employment. Contact us today to arrange a screening at your event or workplace, or look for us at the next local health fair!
---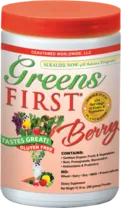 Greens First
We carry a range of flavors of Greens First, a powdered organic supplement packed with vitamins, minerals, and anti-oxidants from over 15 servings of fruits and veggies in a glass! Mix it up into a delicious, healthy shake and take it on the go. It's a tasty, cost-effective way to get a lot of your daily nutrition in one go.
---
Natural Calm
We also stock Natural Calm magnesium supplements in a variety of flavors. Mix it up with water and drink when stressed, to help muscles relax. Magnesium helps balance the effects of calcium in the body, and many people benefit from increasing their intake of this valuable mineral. Research as shown that most Americans are deficient in this mineral and its a very common reason for evening leg cramps.